Facebook has established itself as the most popular social network worldwide, yet its stocks have been up and down. Here's a look at the facts and figures around some of the concerns investors may have.
Facebook IPO (Initial Public Offering) and Financials
Facebook shares started trading as "FB" on the NASDAQ exchange on May 18, 2012.
• $104 billion was the IPO valuation.
• $38 was the IPO price per share.
• $45 was the high share price for the first day of trading / $38 was the lowest
• $38.23 was the closing price for the first day of trading, or only $0.23 above the IPO price — unusual for a tech stock with so much buzz at the time.
• $17.73 is the lowest time-of-writing closing share price – which occurred in Sep 4, 2012 – 53.3% below the IPO price.
• $55.57 is the highest time-of-writing closing share price, which occurred on Dec 18, 2013 — 46.2% above the IPO price.
• $17.55 is the lowest time-of-writing trading price per share, which occurred on Sep 4, 2012 – 53.3% below the IPO price.
• $55.89 is the highest time-of-writing trading price per share, which occurred on Dec 18, 2013 — 46.2% above the IPO price.
• On August 2, 2013 FB finally past its IPO price and closed at $38.05 – 14.5 months after its IPO.
• as of late Sep 2013, FB's forward P/E was over 50 (trailing P/E was 239). As of late Dec 2013, the trailing P/E ratio was nearly 137. PE, or price-to-earnings ratio, gives investors and analysts a sense of whether a stock is overvalued. The higher the PE ratio, the more overvalued a stock. PE ratio is calculated as the share price divided by the EPS (Earnings per Share) in the past 4 quarters (12 months).
The average P/E has been extremely high (20 is normal)
• 2Q12 – 69
• 3Q12 – 94
• 4Q12 – 186
• 1Q13 – NA
• 2Q13 – NA
• 3Q13 – 172
• 4Q13 – 122
The Declining American Teen Demographic
Music industry analyst Bob Lefsetz says "Facebook is for old people" and that "kids believe in evanescence," which might explain the growth of social networking competitors such as Snapchat, where images and video disappear 10 seconds after viewing in a user's stream). Facebook's CFO admitted at the start of Q4'13 during an earnings call for investors and analysts that the number of younger teen users declined in Q3'13. In Piper Jaffray's 24th, 25th and 26th semi-annual "Taking Stock with Teens" reports, Facebook has been dropping in importance and Twitter has taken #1 spot as the social network "most important" to American teens surveyed for purchasing decisions. Here are the percentages of teens surveyed who claimed Facebook as their most important social network:
• 42% of teens surveyed for Q3'12. (Report published Oct 2012.)
• 33% of teens surveyed for Q1'13. (Report published Apr 2012, surveying 5,200 teens, average age of 16.3 years old.)
• 23% of teens surveyed for Q2'13. (Report published Oct 2013, surveying 8,650 teens, average age of 16.2 years old.)
As the numbers show, there is a significant decrease in teen usage of Facebook, at least for some categories. However, the exodus of teens may not be a current concern for Facebook since for advertising, an older demographic is more important. In the future, this might be an issue if these users are happy where they are do not return.
Where Teens Are Going
Several new social networking competitors have appeared in the past few years, many of which are attracting teen users. In Feb 2013, Facebook CFO David Ebersman told investors that Instagram is a formidable competitor. Facebook bought Instagram in Apr 2012 for $1B (cash and stock). Here are some facts and figures on Instagram and other social networking sites teens are shifting towards:
• Instagram has 150 million active monthly users as of Dec 2013 and passed the 4 billion images shared mark in 2013.
• Snapchat: images and videos disappear within 10 seconds of viewing, and "stories" last for 24 hours. 350 million photos are sent daily on Snapchat, which passed the 1 billion photo mark in 2013. Snapkidz is for those under 13, but they can't share photos or videos.
• Messaging apps: Kik, WhatsApp. WhatsApp had about 400M users (Dec 2013) — That's more than Twitter's 232M users (Nov 2013).
• Pheed, AskFm, Twitter, Vine.
• Pheed allows for paywalls on shared content. Features include status updates, video clips, and photo filters. CEO claims "huge growth" amongst the youth market.
• AskFm is a type of question-and-answer social site where about 50% of the 65M users are under 18.
Active Users:
• Facebook: 1,200M
• WhatsApp: 400M
• Twitter: 232M
• Instagram: 150M
• Kik: 100M
• AskFM: 65M
• Vine: 40M
• Snapchat: 30M
• Pheed: 1M
5 Reasons Teens Leave Facebook
Here are some of the reasons teens have said in various surveys that they either use Facebook less or not at all, as well as speculation on other possible reasons.
1. Too many parents monitoring teens, too many adults in general. 70% of 802 American teens surveyed by PewInternet.org (report published May 2013) have friended their parents on Facebook. 91% have friended members of their extended family, and 70% have friended siblings. 30% have friend teachers or coaches.
2. Short attention span; Facebook has high user engagement, longer content.
3. Doesn't satisfy needs in terms of features.
4. Persistence or spread of potentially embarrassing moments that could affect college entrance or employment.
5. Friends are leaving.
The Competitors
There are too many social networking competitors to list here, but Facebook has already purchased one, Instagram, and made an attempting at purchasing another, Snapchat:
• $1B is the amount of the first offer Facebook made for Snapchat in 2013, getting turned down by CEO Evan Spiegel, who was said to be holding out at $3B.
• $3B is the amount of the 2nd offer (all-cash) Facebook made for Snapchat, getting turned down a second time. Facebook CEO and co-founder Mark Zuckerberg himself turned down 2 buyout offers for Facebook.
• $4B is the estimated valuation of Snapchat by Tencent Holdings, a company that owns several social networking and chat messaging services for the Chinese market, and other collaborating investors. This is despite a lack of revenue for Snapchat.
The Positives About Facebook
Despite the concerns of investors, there are many positive factors for Facebook:
•    Facebook is still the #1 social network worldwide in terms of users and usage, despite competition from Google+, YouTube, Twitter, and a number of newer sites, including Facebook-owned Instagram. 1/6th (16.7%) of the world's population uses Facebook regularly. The online population is 2.78 billion, so Facebook makes up 42.8%
• Facebook has the highest average monthly user engagement in the world, with over 6 hours spent per month per user.
•    Older users are the target market for advertising.
•    Mobile ad sales — a concern for investors — have risen from Q2 to Q3 2013.
•    Ads for the social network Instagram were announced in Oct 2013, adding another revenue stream for Facebook.
•    $2.0B in revenue in Q3'13, up 60% from Q3'12 (1.25B) and beating analyst expectations of $1.91B.
•    $1.80B in ad revenue in Q3'13, up 66% from 1.08B in Q3'12.
•    49% (.882B) of ad revenue was from mobile, up from 14% (.15B) in Q3'12.
•    1.19B MAUs (desktop and mobile) as of Sep 30, 2013.
•    Total Mobile MAU growth from the end of Q3'11 to end of Q3'13 (8 quarters = 2 years) is 498M or about 132%.
•    The number of Mobile MAUs (Monthly active users) has grown steadily in 10 consecutive quarters, from Q2'11 to Q2'13:
1 million – End of 2004 5.5 million – End of 2005 12 million – End of 2006 20 million – April 200750 million – October 2007100 million – August 2008150 million – January 2009175 million – February 2009200 million – April 2009250 million – July 2009300 million – September 2009350 million – End of 2009400 million – February 2010500 million – July 2010608 million – End of 2010750 million – July 2011800 million – September 2011845 million – End of 2011901 million – March 2012955 million – June 20121.01 billion – September 20121.11 billion – March 20131.19 billion – September 2013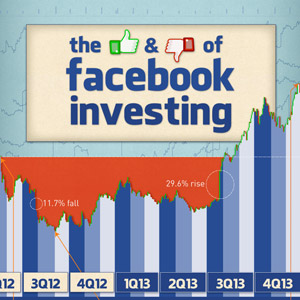 References
Information for this article was collected from the following pages and web sites:
1. http://news.cnet.com/8301-1023_3-57571682-93/facebook-cfo-calls-instagram-a-formidable-competitor/
2. http://investor.fb.com/releasedetail.cfm?ReleaseID=780093
3. http://abcnews.go.com/Technology/snapchats-vanishing-photos-latest-photo-sharing-app/story?id=18120112
4. http://abcnews.go.com/Technology/teens-leaving-facebook/story?id=20739310&singlePage=true
5. http://www.forbes.com/sites/roberthof/2013/07/24/facebooks-mobile-ads-jump-as-q2-earnings-beat-street/
6. http://www.forbes.com/sites/roberthof/2013/10/30/live-facebook-crushes-q3-earnings-on-mobile-ad-strength-shares-surge/
7. http://lefsetz.com/wordpress/index.php/archives/2013/06/02/facebook-is-for-old-people/
8. http://buzz.money.cnn.com/2013/09/24/facebook-stock-comeback/
9. http://www.nasdaq.com/symbol/fb/stock-chart
10. http://pewinternet.org/Reports/2013/Coming-and-going-on-facebook/Key-Findings.aspx?view=all
11. http://pewinternet.org/Reports/2013/Teens-Social-Media-And-Privacy/Summary-of-Findings.aspx?view=all
12. http://www.piperjaffray.com/2col.aspx?id=287&releaseid=1805593
13. http://en.wikipedia.org/wiki/Initial_public_offering_of_Facebook
14. http://blogs.wsj.com/digits/2013/11/13/snapchat-spurned-3-billion-acquisition-offer-from-facebook/
15. http://www.forbes.com/sites/parmyolson/2013/12/19/watch-out-facebook-whatsapp-climbs-past-400-million-active-users/
16. http://news.yahoo.com/companies-turned-down-buyouts-got-even-better-223010691.html
17. http://finance.yahoo.com/news/number-active-users-facebook-over-years-214600186–finance.html
18. http://en.wikipedia.org/wiki/Global_Internet_usage
19. http://www.moneynews.com/SeanHyman/Facebook-PE-overvalued-stock/2013/11/11/id/535896